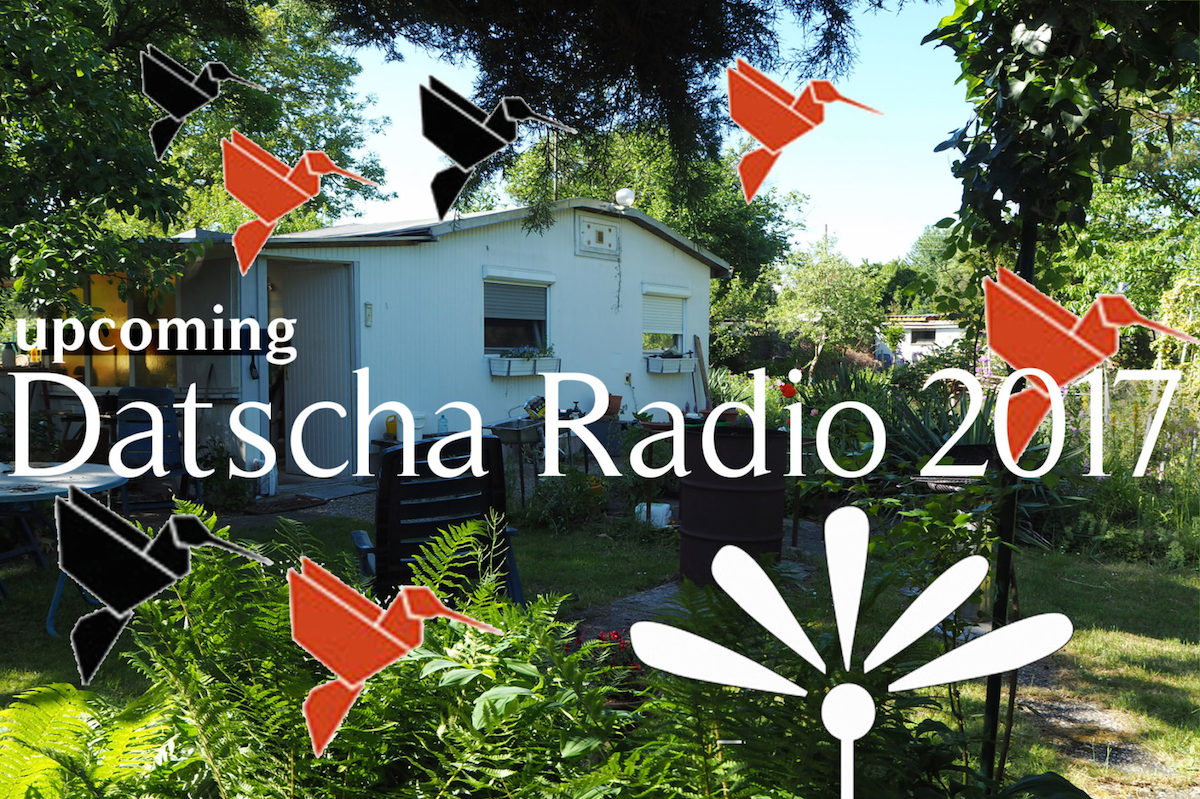 I'm happy to announce that a track from my Album Feldsaiten is played at Datscha Radio 2017.
Datscha Radio 2017 / Plots & Prophecies / Parzellenprognosen / 25. – 29. August 2017
A five-day programme combining radio, gardening, hospitality and contemporary discourse in a live radio festival in a garden in the north of Berlin. Datscha Radio 17 uses radio as an artistic medium and as a source of inspiration and action. The process of radio making – otherwise quite a hidden event – becomes transparent in the winter garden of the house. Creative, interdisciplinary and open to everybody, Datscha Radio 17 transforms the privacy of the allotment garden intoa public space for art and communication. You are welcome to participate!
We broadcast from the 25th to the 29th of August 2017 !
With "Plots "and Prophecies", Datscha Radio will take a look at the future of gardening, the links between biology and technology, and at the changing role of people in this world. Something has shifted in the old imbalance of flora and fauna … and we cannot be so sure that our present awareness will suffice to put these changes into a dialogue with the environment.
5 days = 5 themes
The Datscha radio garden assembles practitioners, gardeners and guests from various fields: music and performance, science and art, local and international.
Together we will trace and listen to the diverse voices, sounds, imprints and languages of the garden. We will broadcast in German and English, but there will be other languages to be heard as well.
Friday, August 25th: Hortus Politicus
Saturday, 26 August: New Symbioses
Sunday, August 27: Biotopes in Futur Perfect
Monday, August 28: Birds and Bees
Tuesday, August 29: Subterranean Meditations
Our Open Call invites international sound gardeners and radiophiles to participate by applying (with broadcasts / features / compositions) by the 5th of August.
Live broadcasting will start on Friday, the 25th of August at 12 noon. Our blog will be updated daily with information on the schedule, programme details, as well as the invited artists and guests.
We can be heard:
Online at www.datscharadio.de
over micro-FM in the surrounding of the garden
At selected times on the 88.4 Berlin and 90.7 in Potsdam
Open Call Artists 2017
Danke!!! Datscha Radio ist ausgesprochen glücklich über die Vielzahl und die Diversität der Einsendungen und freut sich folgende internationale KünsterInnen zu präsentieren:
Absolute Value of Noise/aka Peter Courtemanche (CAN)
Alexander Martinz (GER)
Antonio D'Amato (F)
Ana Berkenhoff & Michael Holland (GER)
Bella (BRA)
Carina Pesch (GER)
Catherine Clover (AUS)
Claudia Wegener/radio continental drift (D)
Concours60radio (CAN)
Dafne della Dafne (UK, GER)
Demian Rudel Rey (AR)
Distant Animals (Daniel Alexander Hignell) UK
Dylan Matorell (AUS)
Elisabetta Senesi (AR)
Fernando Laub (Flaub) (USA)
Floriane Pochon, Phaune Radio (F)
Hagai Itzenberg (Israel)
Heather Kapplow (USA)
Hum& Hiss (Etherland, United States Minor Outlying Islands)
Joan Schuman (USA)
John Haway
Julia Drouhin (TAS)
Kala Pierson (USA)
Katarina Zimmerhakl (GER)
Kirsten Stolle (USA)
Lucía Chamorro (URY)
Mattia Bonafini (GER)
Margarethe Maierhofer-Lischka & Flora Könemann (GER)
Miyuki Jokiranta (AUS)
Nat Grant (AUS)
Nathalie Anguezomo Mba Bikoro (GER)
Paolo Pastorino (I)
Renata Roman (BRA)
Ricardo Paraíso Silvestre
Rocío Cano Valiño (Argentina)
Rodrigo Gobbett/Bakim Hey (BRA)
Sebastian Six (AU)
Sebastiane Hegarty (UK)
The Stockholm Research Institute (S)
Vitalij Kuzkin (NL)