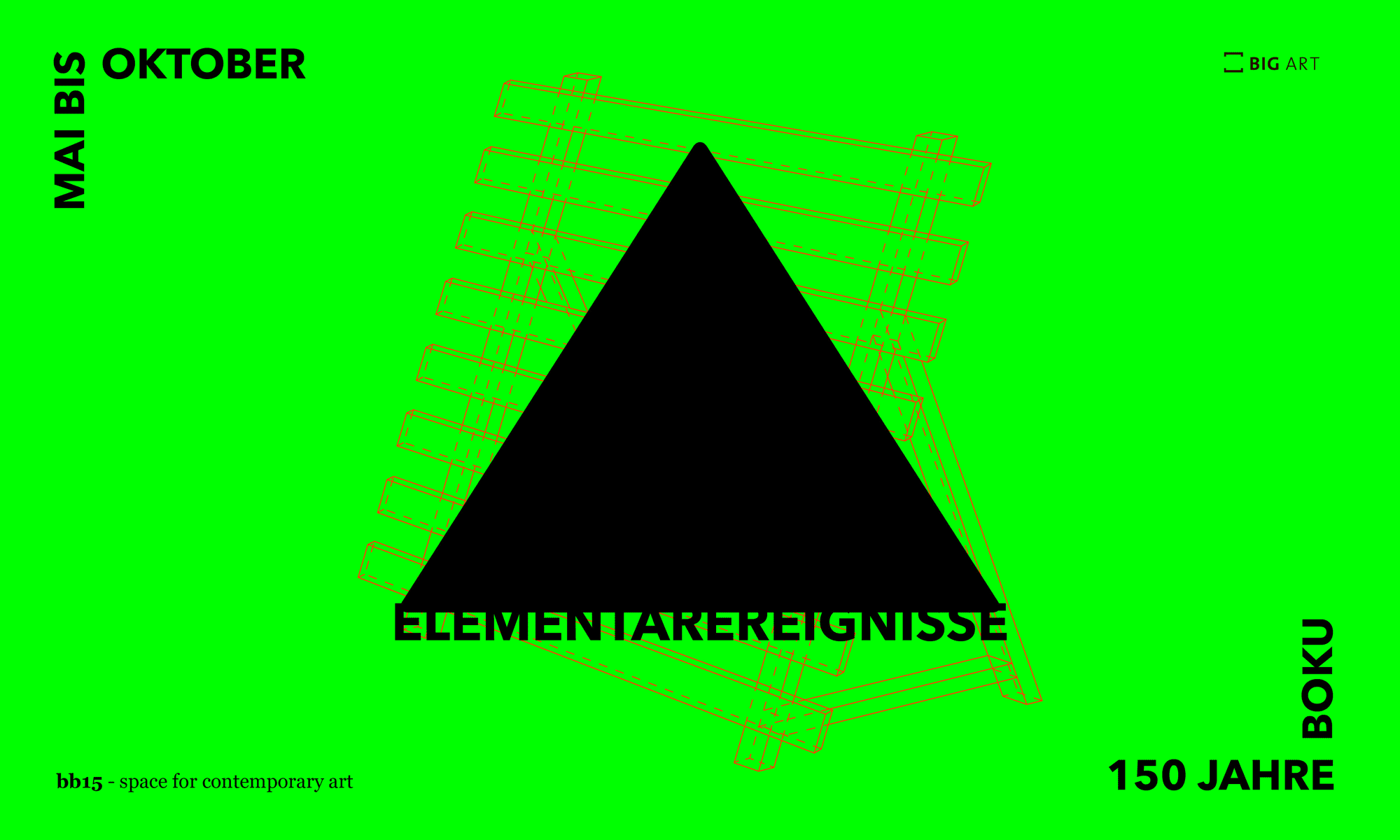 To commemorate their jubilee anniversary in 2022, the University of Natural Resources and Life Sciences (BOKU) will focus on the coming 150 years, i.e. they will look ahead to the long term. BOKU's research into sustainability, resource management and the preservation and protection of the environment and our quality of life forms the starting point for the program series Elementarereignisse.
This artistic concept of the bb15 curatorial team, which will be realised on the occasion of BOKU's anniversary year on behalf of BIG ART, revolves around the concepts of disruption, blockage and disaster. Three temporary artistic interventions will be implemented on the university campus. These elementary events are intended to create irritations within everyday structures, thereby generating attention around BOKU's socially relevant research interests.
The opening of the temporary interventions will take place on Monday, 23 May 2022, 13:00 at the BOKU Campus (Wilhelm-Exner-Haus, Peter-Jordan-Straße 82, 1180 Wien). We will keep you informed about further dates and events under News and on social media!
m Jubiläumsjahr 2022 wird die Universität für Bodenkultur ihren Blick vorrangig auf die kommenden 150 Jahre richten, also nachhaltig vorausschauen. Die Forschung der BOKU in den Bereichen Nachhaltigkeit, Ressourcenmanagement sowie Erhalt und Schutz unserer Umwelt und Lebensqualität bildet den inhaltlichen Ausgangspunkt für die Programmreihe Elementarereignisse.

Das künstlerische Konzept des Kurator*innenteams bb15, das anlässlich des Jubiläumsjahres der BOKU im Auftrag von BIG ART realisiert wird, kreist dabei um die Begriffe Störung, Blockade und Desaster. Drei temporäre künstlerische Interventionen werden am Gelände der Universität umgesetzt. Diese Elementarereignisse schaffen Irritation im alltäglichen Gefüge und generieren dadurch Aufmerksamkeit für die gesellschaftlich relevanten Forschungsgebiete der BOKU.
Am Montag, 23. Mai 2022 werden die temporären Interventionen eröffnet, über weitere Termine und Events halten wir Sie unter News und auf social media informiert!