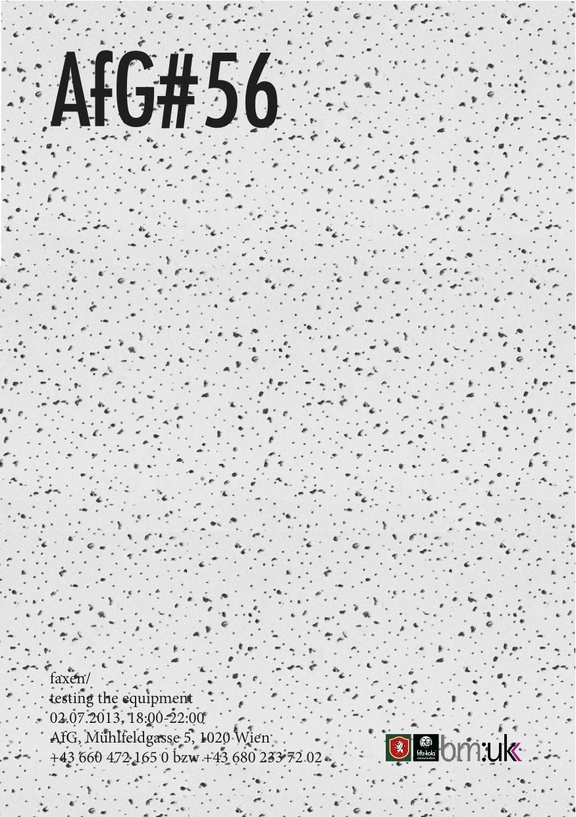 "Can the material bear the sensation it upholds? And can the sensation stand upright, express itself, produce pure sensory qualities, through the material forms and forces it lays hold of?
Die Klanginstallation "Testing The Equipment" ist ein konkreter akustischer sowie architektonischer Eingriff in die Räumlichkeiten des AfG und widmet sich im besonderen den vor Ort verbauten akustischen Deckenpaneelen. Diese universell eingesetzten Bauelemente sind Kennzeichen moderner Architektur und definieren seither maßgeblich die Akustik von Innenräumen wie Büros, Geschäftslokalen, Schulen, etc…Über das Entfernen einiger Deckenpaneele wird somit die Raumakustik des AfG manipuliert und der Blick in den darüberliegenden Hohlraum freigegeben. Die entnommenen Paneele dienen als Material zur Konstruktion zweier Lautsprecherboxen die jeweils ein rhythmisches Signal wiedergeben, welches die Raumresonanz auslotet." (Faxen)
Eine Ausstellung von und mit Faxen aus der Serie "/" (sprich: shift-sieben) der Zehn-Finger-Abteilung des AfG.
AfG
Mühlfeldgasse 5
1020,Wien (Österreich)
More:
https://esel.at/